Scalp Micropigmentation An Effective, Natural-Looking Addition to Hair Restoration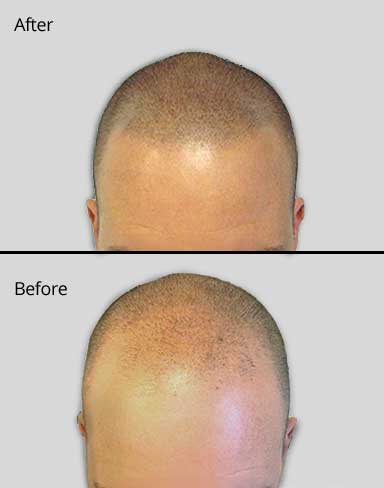 WHAT IS SCALP MICROPIGMENTATION?
Scalp Micropigmentation is growing in popularity as a non-intrusive treatment that utilizes very small needles to add color into the scalp. This process gives the impression of modest hair follicles that creates the appearance of having more hair. Our skilled hair professionals can recreate a natural looking hairline and give the impression of thicker hair. For people that have scarring from a hair transplant procedure, it can help in hiding those scars, as well as fill in areas of the scalp as an adjunct to a hair transplant procedure.
This process is will give you a precise imitation of your own particular hair follicles and hair shading. Scalp micropigmentation can give you a look of thicker hair in areas that may look thin where an additional hair transplant procedure is not indicated, or where the area of thinning is small. This process is also excellent for duplicating the look of a buzz cut, so you look like you just walked out of a barbershop. You are not restricted to any of your normal activities from this procedure so you can do all the activities you enjoy without worry.
How Does Scalp Micropigmentation Work?
If you are just beginning to thin or perhaps you have lost a lot of your hair over the years, Scalp micropigmentation will work to give you an appearance of fuller hair coverage. Many people confuse scalp micropigmentation with a scalp tattoo, which it is not. Because of the specialized process, we are able to give thin hair area a look of being more full, even if you like wearing your hair very short.
By precisely duplicating your own regular hair follicles and hair shading, scalp micropigmentation is the perfect compliment for men and women with:
Strip Transplant Scarring
FUE/FUT Scarring
Plug Scarring
Scarring Alopecia
Scarring due to trauma
Regardless of your hair color, our precise scalp pigments are custom blended so they will match the color of our own natural hair. Your first step is to schedule a free consultation with us and we can determine the proper color for you to match your natural hair which will give you the results you want that is flawless.
Is Scalp Micropigmentation a Scalp Tattoo?
Scalp Micropigmentation is not a process that you might find in a typical tattoo shop. The inks that a tattoo shop uses are meant to last a life-time. The specialized pigments that we use in scalp micropigmentation are designed to hold their color for the life of the replicated hair follicles. They will become less strong over time – a period typically lasting five to seven years.
Similarly, the needles tattoo shops use are too large and go much deeper into the skin layers. Scalp Micropigmentation uses specialized needles custom made to be the width of a human hair and they only penetrate down into the second dermal layer of skin so there is only minimal discomfort. Because of the specialized nature of the scalp micropigmentation needles, our trained technicians are able to ensure that each area of the scalp has the proper number of replicated hair follicles for a natural looking result.
Who is a Candidate for Scalp Micropigmentation?
Men and women that want the appearance of added hair density in specific areas
People with shaved heads that want their hairline more noticeably defined
Individuals suffering from various forms of Alopecia
Men and women who want to hide burns, scars or birthmarks
Individuals who are not yet candidates for hair transplant surgery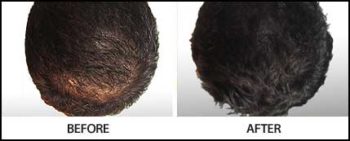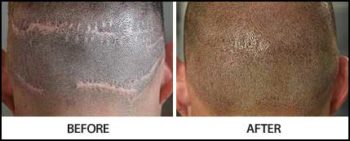 Which Hair Loss Solution is Right for You?
WE INVITE YOU to schedule a private, no-obligation consultation at our state-of-the-art hair restoration center in Dallas Fort Worth, Texas where you can discuss concerns about your hair loss, with a trained HRI hair loss professional.
Whether you are just starting to experience baldness or are in the most advanced stages of hair loss, we can help with our full spectrum of professional treatment and hair restoration options.
CLICK HERE to schedule your private hair loss evaluation today. Or call us any time at (612) 588-4247.
Schedule a FREE Hair and Scalp Evaluation.
Get all your hair restoration questions answered. Find out which hair loss solution is right for you.