Laser Hair Therapy Overview
The Science and Benefits of Laser Hair Restoration Therapy
In 1964, Professor Andre Mester began experimenting with the use of low-power laser energy in Budapest, Hungary.
In his experiments with wound treatment on mice, he noticed rapid healing due to microcirculation of blood supply. This healing was also obvious in Laser Hair Rejuvenation treatment of diabetic patients suffering with dystrophic sores.
This theory through its evolution has since been refined and is widely becoming one of the most popular non-invasive hair loss treatments.
Until very recently, the use of low level laser treatment has been relatively underutilized in North America. Today, however, there is increasing awareness and acceptance of low level laser therapy.
Thicker, Fuller, Healthier Looking Hair
Not everyone wants hair transplants or potentially harmful prescription medications to regrow their lost hair. If you're looking for alternatives to surgery or drugs, Hair Restoration Institute has a treatment program for you. Hair Restoration Institute has pioneered laser hair loss treatment programs to stop hair loss and regrow lost hair.
Laser Hair Therapy Results are based on the scientific principal of photo-biotherapy. Photo-biotherapy occurs when laser light is absorbed by cells, which causes stimulation of cell metabolism and improved blood flow.
In clinical studies, laser light is proven to stimulate cellular metabolism, protein synthesis, and tissue and cartilage regeneration, while dramatically increasing blood supply to the targeted area. Low Level Lasers have been used to treat hair loss throughout Europe for over a decade as an alternative to hair transplantation and medications. Their use in the United States has been well documented.
The MEP-90 clinical laser is FDA approved to treat female pattern hair loss (androgenetic alopecia). The HairMax laserband is an FDA Class 2 cleared device for use at home to treat both hereditary female hair loss (androgenetic alopecia) as well as common male pattern baldness.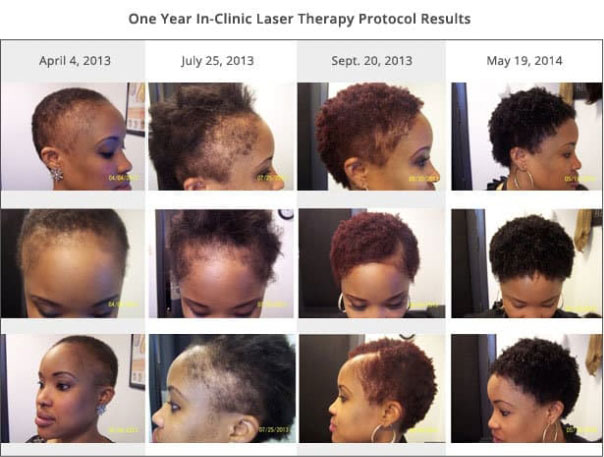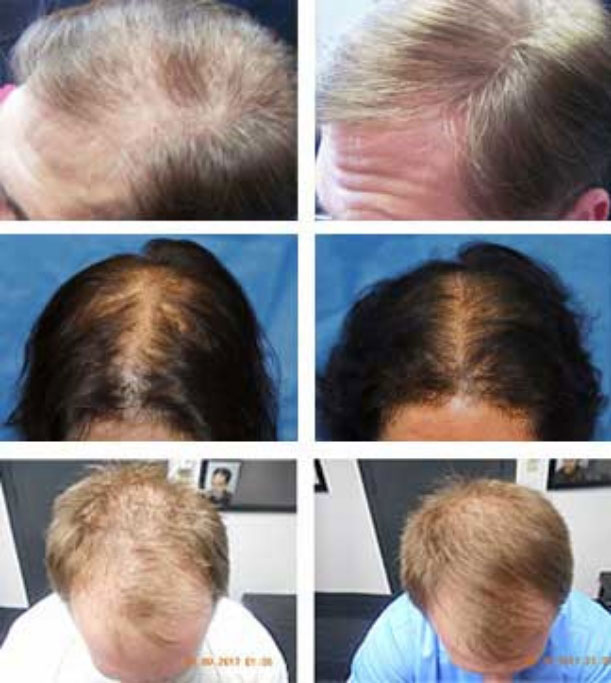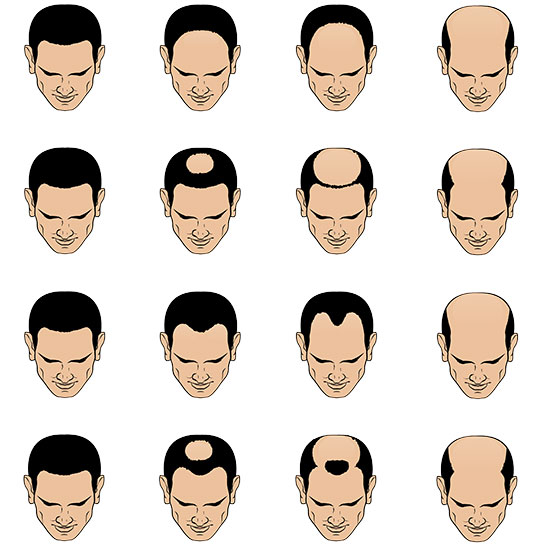 MEP-90 Clinical Data:
An IRB pre-approved clinical trial with oversight was performed.
Each subject received a total of 36 20-minute treatments over 18 wks. Results were reviewed at 10-weeks (20 treatments) and 18-weeks (36 treatments) levels.
After 20 treatments (10 weeks) 92% of subjects had increased hair counts of >+10% with 57% demonstrating an increase of 30%.
98% of subjects indicated a medically-significant stabilization of rate of hair loss.
After 36 treatments , 97% of subjects had an increased hair count of >+ 20%. A total of 89% of all subjects demonstrated an increased hair count of >+30%, with 57% demonstrating an increased hair count of >+50%.
Read the full FDA 510(k) clearance on the FDA website: http://www.accessdata.fda.gov/cdrh_docs/pdf9/K091496.pdf
Advanced Hair Loss Treatment Products
Laser hair loss treatment therapy has been shown to be especially effective in many men and women when used in a multi-therapeutic setting which includes the incorporation of a recognized program of topical hair loss treatment such as our exclusive HRI hair loss treatment products which have been developed for us by doctors and hair loss experts who have designed programs for all types of hair loss and for men and women.
If you are looking for an alternative to transplants and your consultant feels you are a good candidate, then the Hair Restoration Institute laser program is right for you.
Are You a Candidate for Laser Hair Therapy?
At Hair Restoration Institute, we specialize in hair loss restoration and prevention for both men and women. Our revolutionary Laser Hair Therapy™ treatment program involves no surgery, no drugs, no side effects and no hairpieces.
Our 30 years of experience in treating hair loss has shown that our hair loss treatment clients receive best results when taking a multi-therapeutic approach to hair loss treatment.
CONTACT US to get all the answers your particular hair loss questions and concerns. It's completely confidential. It's also completely free. So why not request your free, private, no-obligation hair loss evaluation and consultation today.