HRI HAIR TRANSPLANT SURGEON MINNEAPOLIS Doctor Gary Petrus, M.D.
Dr. Gary M. Petrus, M.D. is a hair transplant & facial plastic surgeon with over 25 years of experience in his field. Dr. Petrus is Board Certified by both the American Board of Facial Plastic & Reconstructive Surgery and the American Board of Otolaryngology – Head & Neck Surgery. He is also a member of the International Society for Hair Restoration Surgery (ISHRS).
Recognized as an expert in the treatment of alopecia (hair loss), Dr. Petrus has been serving as a FDA Principal Investigator since 2007. In this role, he has supervised over 20 clinical studies, many focusing on the development of drugs and cutting edge treatments for alopecia.
Acclaimed as a leader by his peers, Dr. Petrus has held important positions such as a Member of the State of Arkansas Department of Health's Trauma Advisory Council, President of the Arkansas Academy of Otolaryngology – Head & Neck Surgery, and Chief of Surgery at Baptist Health Medical Center – North Little Rock, Arkansas, among others. Dr. Petrus is also a member of the Residency Relations Committee and the Membership Committee for the American Academy of Facial Plastic & Reconstructive Surgery.
A native of Little Rock, Arkansas, Dr. Petrus received his Facial Plastic Surgery training at The University of California, San Francisco. During his fellowship in the Bay Area, he also served as faculty (staff physician) for residents-in-training at San Francisco General Hospital. His professional education has focused on Aesthetic Surgery, Trauma Care, Laser treatments, Injectables (Botox, Dermal Fillers) with emphasis on Hair Transplantation procedures for men and women.
Dr. Petrus has presented at numerous meetings and conferences, and has published articles in Facial Plastic Surgery Clinics of North America. He combines a strong artistic sense with state-of-the-art surgical care to achieve outstanding results in hair transplantation procedures. Alopecia topics of special interest to him include: alopecia capitalis, hairline design, congenital high hairline, female hair loss, and hair transplantation procedures in various ethnic groups.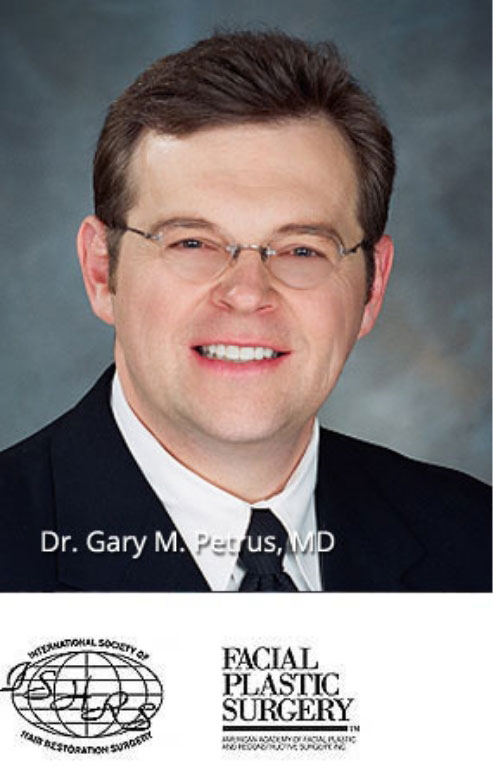 At Hair Restoration Institute, we understand that an investment in your appearance and self-confidence is one you'll approach carefully. We also understand that many clients will be interested in financing options to cover the costs of hair restoration. That's why we make it easy to restore your hair and restore your life. The application process is fast, easy, and confidential. There are no application fees, and in many cases, you can be approved in minutes.