BLOG
Natural Hair Replacement with NeoGraft® Technology
March 12 2020
It's estimated that about five million Americans have some degree of hair loss, and it happens to both men and women of all ages. If you're one of them, the NeoGraft® hair transplant solution may be right for you. It's advanced technology technique and natural-looking, effective results have made a difference for many of our patients.
NeoGraft® uses follicular unit extraction (FUE) technology, the most advanced technology available for hair transplants. It works by extracting hair follicles from a donor site on your own head and transplanting them to the area that is thinning. It differs from older technology by removing a section of two to three hairs in a circular pattern, compared with the older technology that removes a strip of follicles. Strip extraction leaves behind a scar line, while FUE technology does not. Because it uses your own hair follicles as donors, there are no tissue rejection problems.
The NeoGraft® system has several benefits that older hair transplant technology just can't beat, including:
Quick recovery times. Old procedures left patients waiting quite some time to return to their normal routine. NeoGraft® gets you back to work and play in just a few days, and the donor site will look normal soon afterward.
Effective results. NeoGraft® transplants look natural and let you style your hair just about any way you want to because there's no visible scarring to hide.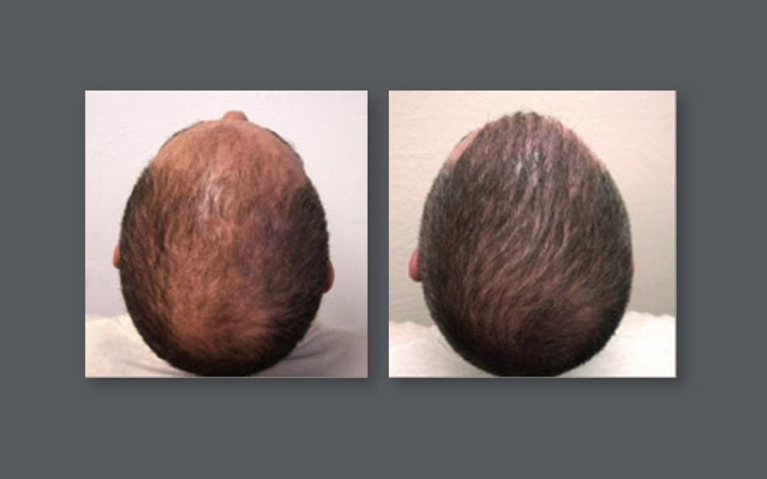 Gentle. The NeoGraft® process is gentle with little to no discomfort. It's done with a local anesthetic while you're awake. There are no scalpel incisions or staples used.
Works for many. Both men and women can have a NeoGraft® procedure. It works on all skin and hair types, and in most cases, you can get a NeoGraph hair transplant even if you have had a different type, like strip transplant, done in the past.
Customizable. Each NeoGraft® transplant is a customized hair transplantation plan that fits the needs of each patient. Options are available that help with hair density, anchoring, and regrowth as well as scalp rejuvenation, and our medical professionals will assess your individual needs and determine a NeoGraft® treatment plan that works for you.
The first step is a consultation appointment to see if NeoGraft® treatments are right for you. Our medical professionals will assess your level of hair loss as well as your age, hair caliber, hair-to-skin color contrast, and the ratio of available donor hair versus coverage need, as well as your goals for styling your hair once the transplant is complete. If NeoGraft® technology is right for you, our medical professionals will determine a treatment plan that meets all your needs.
The average NeoGraft® procedure takes about five hours, although this varies based on your treatment plan. The procedure is a two-step process. The first step is the harvesting process, where donor follicles are removed from the back of your head. You'll lay face-down in a comfortable position and relax for this portion. The next step is placement, where you sit in an upright position while the medical professional applies the donor follicles to the thinning areas. Again, we'll ensure that you're comfortable so you can listen to music or watch a video and relax.
As discussed above, you can return to your regular activities within a few days of the procedure. It takes about 7 to 10 days for your donor site hair to grow and cover that area, and the transplanted follicles will be safely rooted and secure after that time.
If you've been looking to take control of your hair loss, make an appointment for a consultation today at the Hair Restoration Institute. Our experienced medical professionals will answer all your questions and assess all your needs to determine whether NeoGraft® transplants are the right solution for you. You can find us at 8030 Old Cedar Ave S #202 in Bloomington or the Edgewater Town Office Park at 2598 Rice Street in Saint Paul in Minnesota, or at 1201 West Lancaster Avenue in Fort Worth, Texas or call 612-588-HAIR (4247) in Minnesota or 817-854-HAIR (4247) in Dallas/Fort Worth for a complimentary consultation.