BLOG
How is Female Hair Loss Different?
September 15 2021
When people think of hair loss, many often think of men and the common pattern of hair loss we see in so many men. But the truth is that millions of women also experience hair loss every day. Discovering hair loss can be traumatic for women because we often think of our hair as a part of ourselves. At the Hair Restoration Institute, we understand the emotions that surround hair loss in women, and we offer a wide variety of hair restoration treatments that can help you take control.
Why do people think women don't experience hair loss?

The reason that many people don't associate hair loss with women is that the most common form of hair loss can appear differently than it does in men. Male pattern baldness, or androgenetic alopecia, is a genetic condition that causes men to lose hair in a distinctive pattern along the forehead hairline and at the very top of the head toward the back. As the condition progresses, this pattern becomes more distinctive.
Women can get the same condition, but it shows up differently for them. Female pattern baldness has a less distinctive pattern where women have a more general overall thinning. Rather than one large area of hair loss, the hair is thinner all over. Hair loss may also be more visible at the part line. Although it can be more visible as the hair loss progresses, it's not the same highly visible pattern that we see in men.
The role of hormones in female hair loss
To understand how estrogen, the female sex hormone, helps keep hair loss controlled, it's important to first understand the role of testosterone, the male sex hormone, on hair loss. Testosterone has many roles in the body besides sex responses, so even females have small amounts of testosterone in their systems. 
Hair grows from follicles in the scalp, which add more cells at the root to make hair push out and grow longer. Follicles have natural cycles of activity. Sometimes the follicles are actively growing hair, and other times they are resting or shedding. Shedding is a natural part of hair growth, and most adults lose several strands of hair each day. When follicles rest too much, you'll notice thinning.
Follicles have receptors that interact with a type of testosterone called DHT. When weak follicles interact with DHT, it causes the follicles to enter the resting stage, so no more hair is produced.
Estrogen, the female hormone, controls the levels of DHT. When women reach menopause or when estrogen is reduced for another reason, DHT levels increase and can cause hair loss.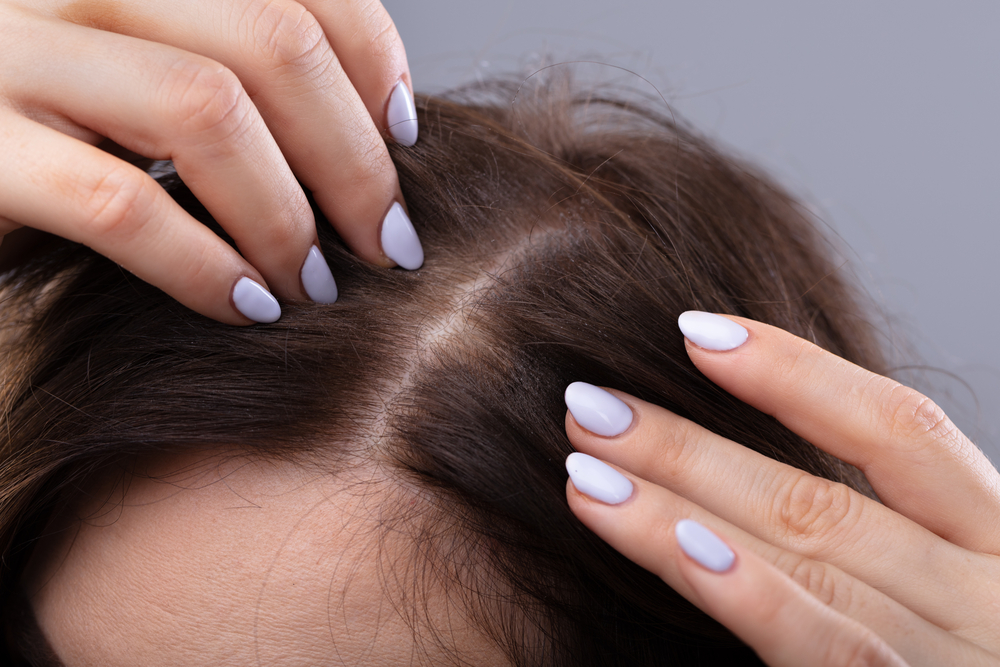 Other causes of female hair loss
Other causes of female hair loss include drugs or chemicals for medical treatments like chemotherapy, trauma, and stress, pulling on the hair, and some medical conditions.
Treatments for female hair loss
There are multiple treatments available for hair loss in both men and women. Your personal plan of hair restoration will be unique and may contain one treatment or a variety of treatments to stimulate hair growth or replace lost hair. Some of these treatments may include:
HRI Dermal Lens Hair Replacement
Laser Treatment Therapy
HRI Hair Loss Prevention and Treatment products
Hair Transplant Surgery
PRP Hair Loss Treatment
Follea European Hair Wigs
Whether you're a man or a woman, discovering hair loss can be a difficult time. But everyone can take control of hair loss with help from the hair loss experts at the Hair Restoration Institute. Make your consultation appointment today and we'll assess your overall health as well as your hair restoration needs and determine a personalized hair replacement plan that will help you. The initial consultation is free and discreet, so no one ever has to know that you're worried about your hair loss. You can find us at 1201 West Lancaster Avenue in Fort Worth, Texas, or call or 817-854-HAIR (4247) for your complimentary consultation with a hair loss professional.