BLOG
How Common Is Genetic Female Pattern Hair Loss
July 19 2018
According to Alopecia Studies & Hair Loss Alopecia Information, 40% of women by the age of 50 years old will show signs of genetic female pattern hair loss. Genetic female pattern baldness involves a pattern of hair loss in women that follows a particular cycle. Physicians attribute hair loss in women to hormones, aging, and other factors. Female pattern baldness may also be called alopecia, baldness, hair loss, or androgenic alopecia (hereditary hair loss or thinning hair).
Genetic Female Pattern Hair Loss Causes and Presentation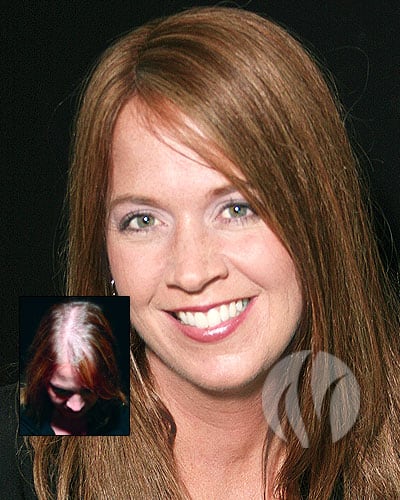 The American Hair Loss Association explains that dihydrotestosterone (DHT), an offshoot of the hormone testosterone, is a major contributor to many types of hair loss. Essentially, DHT attacks hair follicles and either damages the follicle or kills them entirely. Female pattern baldness has several different courses and presentations. The course of female pattern baldness may include an overall and gradual thinning of the hair on the crown of the head. When hair thinning occurs for women, it usually begins at the top of the scalp and widens through the center of the head. Hair usually grows at a rate of half an inch per month. Hair may grow from two to six years, fall out, and immediately re-grow. The hair growth process spans three cycles: growth phase (or anagen phase), resting phase (or catagen phase), and falling out (or telegen phase).
The American Academy of Family Physicians explains that the cause of female pattern baldness is undetermined. Potential causes may include: hormone imbalance, genetics, pregnancy, medical issues, and external causes. Complete baldness is relatively rare in women as compared to men. However, it may occur. Complete baldness occurs when hair falls out and a new hair fails to grow in its place. Although the causes behind baldness are not well understood, research demonstrates that baldness may be related to aging, changes in hormone levels, and/or a family history of hair thinning, hair loss or balding.
Treating Genetic Female Pattern Hair Loss
Once you've noticed hair loss, it is important to schedule an appointment with your primary care doctor as soon as possible. Your doctor will be able to determine whether your hair loss is a disorder that requires medical treatment. If the doctor informs you that your hair loss is not resulting from a medical problem, consider that permanent hair loss could be a reality. It is important to remember that female pattern baldness is not a medical disorder.
Many women prefer to receive treatment in an effort to slow the course of hair thinning and baldness. Minoxidil is the only drug approved by the United States Food and Drug Administration (FDA) to treat female pattern baldness. Minoxidil, which is most commonly marketed under the brand name Rogaine, helps hair growth in approximately 20-25% of women. However, hair loss begins once you stop applying Mixoxidil.
Hair has been called a woman's crowning glory. To look good is to feel good. Genetic female pattern hair loss and thinning hair can be painful, devastating, and embarrassing. Beauty is but one of many elements that comprise a woman's life, yet one of the most important by which she is judged. Hair is a huge component of female beauty. Hair replacement or hair restoration may be an ideal solution if you suffering from thinning hair or moderate to severe hair loss.
At Hair Restoration Institute of Minnesota, we offer modern, beautiful, state-of-the-art women's hair replacement systems which can be an extraordinary solution for female pattern thinning. A hair integration system is a state-of-the-art hair enhancement that adds any amount of fullness, length and body to your existing hair. It is feather-light, secure and completely undetectable.
You Really Can Have The Hair of Your Dreams. Really!
Female pattern balding is a reality that many women live with every day. Although the effects of hair loss can exact an emotional and psychological toll on women, there are resources available to help you solve your hair loss problem. If you are struggling to maintain your positive outlook on life in the face of female pattern baldness, we encourage you to contact a trained hair loss professional and explore the various state-of-the-art hair replacement and hair restoration solutions that are available today.
At HRI, We're Here to Help
When it comes to hair loss and thinning hair, finding the right solution that works for you can be frustrating, time consuming and overwhelming. Let a trained hair loss specialist at HRI in Bloomington, Minnesota help you and show you the many amazing solutions to hair loss and thinning hair that are available to you today. We invite you to schedule a free, private, confidential visit today.