BLOG
Help for Hair Loss – an Effective Hair Loss Solution
February 20 2020
Every year, millions of people experience hereditary hair loss. It's called androgenetic alopecia, and it can start to affect people as early as their 20s. If you're just starting to notice hair thinning, we have several options to try here at the Hair Restoration Institute, including platelet-rich plasma therapy, an effective treatment for hair loss for men and women.
This therapy has a long history of use for surgical and medical purposes, but recently it was found to be very effective as a hair loss treatment. It works either as a stand-alone treatment or paired with a transplant procedure.
The secret is in the platelets, which help stimulate healing and tissue regeneration in a natural rejuvenation process. Platelets are one component of blood. Their job, along with other components, is to rush to the site of an injury, like a cut, and stimulate the healing process. The more platelets, the better the healing, so scientists found a way to separate platelets and inject a more concentrated amount of them into specific areas to help stimulate new growth, including hair growth.
The first step in the process is to make an appointment with our medical professionals. They'll take a complete medical history and assess your level of hair loss to determine the best treatment for you. They'll then create a customized treatment plan with the recommended procedures at just the right intervals to achieve the best results. If platelet-rich plasma treatments are part of your treatment plan, you'll make separate appointments for those procedures.
What's the process like?
A blood draw is the first step in the platelet-rich plasma process. The treatment uses your own blood – it just concentrates the platelets and then reinjects them where needed so they can do the work where you need it. This is done in a centrifuge, a medical device that separates blood components. Our medical professionals then draw up the concentrated platelets and injects them strategically into areas that need hair regrowth.
The whole process takes about an hour, and there's no downtime. You'll be able to go about your regular routine after your appointment, and several hours after treatment, you can shampoo and style your hair as normal. Our medical professionals will assist you with any questions you have about activities or treatments you may need to discontinue before or after treatment, including medications you are taking or other hair loss treatments you have that are part of your treatment plan.
The procedure uses a blood draw and injections, so you may experience the same slight discomfort that you have when your doctor draws blood or performs injections for other medical reasons. When done by our experienced professionals, there is minimal discomfort that does not continue after the procedure is complete.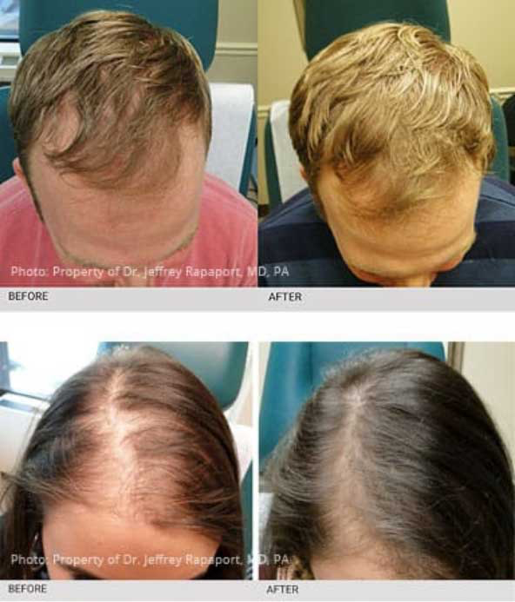 How often do I need treatments?
This varies greatly for each patient, because every patient at the Hair Restoration Institute of Minnesota has a personalized treatment plan. In general, our medical professionals assess the results of your first treatment and plan follow-up procedures as needed. Once hair growth is stabilized, most patients need maintenance treatments every three to six months. This is because platelet-rich plasma treatments cannot cure the reason for hair loss but can treat its symptom by stimulating hair growth.
When will I notice the difference?
You can usually expect to see the best visible results after several treatments.
Can I have the treatment if I've had a transplant?
This also varies by patient, but in many cases, platelet-rich plasma treatments can help stimulate healing following a hair transplant. And for patients that were not transplant candidates, this treatment can be an effective solution. Our professional medical staff will assess your individual medical history, past hair loss treatments, and treatment goals to determine if this treatment is right for you.
Troubled by thinning hair? The professionals at the Hair Restoration Institute can help. Make a consultation appointment today and our professional medical staff will assess your individual needs to see if platelet-rich plasma treatments are right for you. Find us at 8030 Old Cedar Ave S #202 in Bloomington or the Edgewater Town Office Park at 2598 Rice Street in Saint Paul in Minnesota, or at 1201 West Lancaster Avenue in Fort Worth, Texas, or call 612-588-HAIR (4247) in Minnesota or 817-854-HAIR (4247) in Dallas/Fort Worth for a complimentary consultation.