BLOG
Hair Loss Treatment Options for Men
April 12 2015
When a man begins experiencing noticeable hair loss some of his first thoughts are why is this happening to me and what am I going to do now? A better question may be why not you? Did you know that over 30 million men in the United States experience hair loss? So, the first thing to remember is you are not alone! The second thing to know is that there is help available. There are three major forms of hair restoration available today.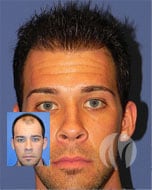 1. Non-Surgical Hair Replacement
The latest non-surgical hair replacement solutions for men can restore your hair one strand at a time, creating a natural and undetectable hairline. Unlike chemicals or surgery, HRI's Dermal Lens men's hair systems guarantee a significant increase in the density of your hair. Approximately 90 percent of men suffering from hair loss are candidates for this non-surgical approach to restoring hair.
2. Surgical Hair Replacement
Surgical hair replacement is tried and true. It is a technical art that can create an undetectable and natural hairline. Surgical transplants have gained in popularity, which is single hair implants performed by a surgeon with skilled technical expertise and artistry experience. Once the hair has been grafted in, it begins growing your own hair and it is growing from your scalp. There is no maintenance apart from your regular hair care regimen.
3. Laser Hair Rejuvenation
If you are in the early stages of hair loss, then laser hair rejuvenation may be the most effective treatment for you. Laser Hair treatments used in conjunction with a tailored program can combat hair loss and stimulate hair re growth at the same time. Laser Therapy helps to increase blood circulation in the hair follicle area stimulating growth. Patients report noticing a reduction in hair loss after five to six treatments and some patients indicate they have also experienced re growth after just 10-12 treatments.
If you have questions about hair loss and hair loss treatment options, we invite you to contact us with any questions you may have. We will be happy to discuss your individual situation and help you understand which hair loss treatment or hair restoration options may be suitable for you.