BLOG
Hair Extensions for Women With Thinning Hair
November 10 2014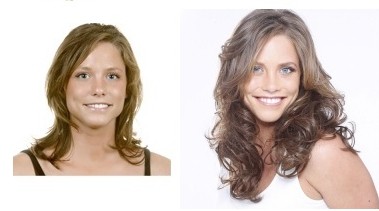 Hair Extensions for women with thinning hair. The technology around the applications of hair extensions has become very sophisticated. Hair extensions are now available for women of different ethnicities and with different hair types almost completely indiscriminately. Really, it's just about finding the application that is best for you.
The basics: Hair extensions can be made of a many different materials, including synthetic materials (which are the least expensive), horsehair (believe it or not), and other synthetic materials. The best hair extensions, of course, have always been made with virgin European 100% human hair extensions. These look, feel, move like natural human hair, because that's exactly what they are.
Most human hair used in hair extensions comes from women in Southeast Asia or India who may sell their long ponytails or they may shave it in religious sacrifice. The hair in both cases is gathered and sold to companies or individuals that then resell it to distributors who wash and sort it. It then exported to the US and elsewhere.
Hair extensions can be a good way to make a change or add volume with minimal damage to your natural hair. Contact a hair replacement expert in your area for more information on finding out which type of hair extensions are right for you.
At HRI, We're Here to Help
When it comes to hair loss and thinning hair, finding the right solution that works for you can be frustrating, time consuming and overwhelming. Let a trained hair loss specialist at HRI in Bloomington, Minnesota help you and show you the many amazing solutions to hair loss and thinning hair that are available to you today. We invite you to schedule a free, private, confidential visit today.