BLOG
Everything You Need to Know About Men's Hair Loss
May 18 2019
Everything You Need to Know About Men's Hair Loss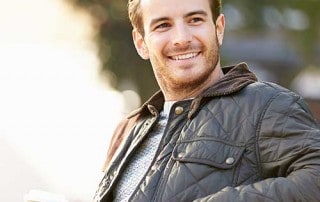 Remember: not all hair loss is the same, and most importantly, not all hair loss is permanent. It's critical to identify and learn to understand what's causing your thinning hair— stress, genetics, or environmental factors— to reverse it.
This blog post seeks to educate men suffering from hair loss or thinning hair by offering additional information on the effects of hair loss, the men's hair restoration options available for dealing with hair loss, as well as tips for preventing further hair loss.
First, How to Know if You're Going Bald
If you have ever had a passive aggressive friend asking you "is it normal to see your scalp through your hair?" then it's likely that your hair might be thinning out. However, if your friends are kind enough to hold back on the hair comments then there are other ways you can track any hair loss. Of course, all of this depends on your age. If you're in your 20s and you are concerned that you could be suffering from premature hair loss, there are some signals to look out for.
The first thing you need to ask yourself is "is my hair getting thin?" and keep track of any further signs of hair loss. Are you noticing more hair on your pillow in the morning? When you shower, do you feel like more hair is going down the drain? Male pattern baldness only affects the top of the scalp so you shouldn't notice any hair loss on the sides of your head. If you think you might be losing hair, keep track of your normal hairline and see if you notice any changes.  Keep an eye out on chart below.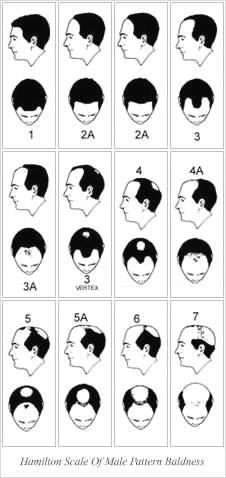 Effects of Hair Loss
If you are suffering form thinning hair or hair loss or have ever spoken with someone who is currently living through this harrowing experience, you know that it can have a serious negative impact on a person's self-esteem. Direct hits to a person's self esteem often lead to depression, anxiety, and other emotional issues; however, there are positive steps you can take to combat the negative impact of hair loss.
We have witnessed the transformation of many individual's self esteem, as we work to restore their hair. Client comments and letters have again and again said that restoring their hair has given them a new lease on life by also restoring their self-image, self-confidence, and self-esteem.
Regardless, we want to ensure that we're here for you as an emotional resource. The more that you learn about the emotional side effects of hair loss and the power of change, the better you will feel.
What are the Options for Dealing With Hair Loss?
When you spot a bad patch, or pull out extra strands of hair when you shampoo, it's easy to assume that it's a permanent problem.
Fortunately, there are modern non-surgical hair replacement solutions, including the latest PRP Hair Restoration Treatment Therapy, that offer the opportunity to add as little or as much hair as an individual may desire to regain the overall hair density they dream of.
Modern hair replacement advancements, along with the skill and artistry of trained hair replacement stylists, allow you to look in the mirror and see the hair you have always wanted. Our stylists have the ability to perfectly match the hair color to your existing hair, creating age appropriate hair density, and a natural front hairline. This allows you to return to your favorite hair style (or the latest trending hair style you've been dreaming about).
Essentially, non-surgical hair replacement solutions allow the individual to choose any hair style they wish, including those which are combed back in such a way as to reveal the front hair line. A high quality hair replacement not only appears totally natural to the eye, but it also feels completely natural to the touch as your run your fingers through it.
Hair Loss Prevention
Unfortunately, when a man begins to go bald or shows signs of thinning hair, confidence is likely to follow the hair down the drain. However, baldness can be deceiving— many men who face hair loss at a young age are often dealt a bad genetic hand. Male-pattern baldness is caused by an inherited sensitivity to dihydrotestosterone (DHT), which leads to finer hair, a receding hairline, and finally a barren scalp.
Regardless of age, anyone who notices hair loss or thinning hair is prone to hop on the computer for some information to calm their nerves.
Minneapolis Hair Restoration Specialists
If you feel that your hair loss is negatively impacting your person and professional life, fear not, we can help. After all, if not now, when? Our Minneapolis expert hair restoration specialists are well versed in a wide variety of techniques to help you regain your motivation and drive at work by instilling the confidence you need to succeed.