BLOG
5 Mistakes to Avoid When Considering Hair Restoration
August 27 2018
Hair Restoration: Getting It Right the First Time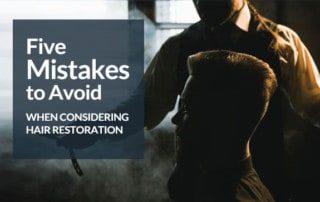 If you notice that your hair is getting thinner, hair replacement could be a great solution. Whether your hair is having only mild thinning or perhaps you have complete baldness, there is a solution that can help you restore your hair regardless of the level or type of hair loss you have. If you have decided to look for hair restoration solutions, you need to be informed so you avoid the many mistakes that could cost you the solution you have been looking for. To help you, here is a list of the top five hair restoration mistakes to avoid.
1.Continuing to Damage Your Hair
Quite often our hair loss can be caused by damage to our hair. Many styling techniques can be the culprit of this damage. Tight braids and other tight hairstyles can cause stress and damage to the hair follicles. If you are someone that regularly straightens, curls, or blow-dries your hair, you can be damaging your hair by drying your hair out. If you have dry hair and don't use a moisturizing conditioner, that too can lead to damage as well. Damaged hair can increase your chances of hair loss which is something you don't want to have happen if you are looking for a solution to your hair loss.
2. Failing to Research Properly
When you are looking to achieve a successful hair restoration, researching different businesses and solutions is essential. You don't want to invest in any procedures that have not been scientifically proven to be successful. There are many products and procedures out there that claim to be a cure to baldness but they lack any proven results. It's important to choose a company with a proven track record of success so you can feel comfortable that the company you choose is a company you can rely on. By failing to do your research, you could end up paying for a procedure that is completely ineffective.
3. Waiting too Long to Seek Treatment
If you have put off looking for a solution to your thinning hair, thinking that it is too advanced, think again. Some of the most effective hair restoration techniques like laser hair therapy require a certain percentage of hair to still be on your head. In the early stages of hair loss, you have a number of options available that can encourage hair regrowth, and not simply damage control. Prevention is always easier than a correction which is why you should not wait to seek out a treatment. If you have waited don't worry, there are hair restoration solutions available for every stage of hair loss.
4. Seeking Treatment too Soon
Regardless of the amount of hair loss you have, it is never to soon to visit a reputable hair loss professional. It is not uncommon for most people to lose over 50% of their hair before their hair loss is apparent. You should keep in mind that there are certain types of hair restoration procedures that shouldn't be done without experiencing more advanced hair loss. Understanding your options will come by visiting a hair loss professional.
5. Not Using a Professional
If your hair loss has you stressed you may be thinking that over-the-counter shampoos or a synthetic wig are a quick way to fix your hair loss problem. This is where seeking professional help is so important. A specialist can help you figure out the best course of treatment for your specific type of hair loss and your budget. A professional hair restoration can guarantee you get the best solution and it will also produce the most realistic and natural-looking results.